Altcoins News
News
Demand for 'Internet Dollars' to Increase – Circle CEO; Not All Celebrate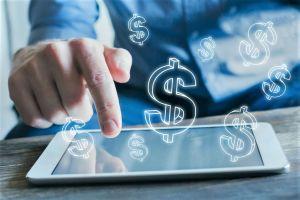 While the current Covid-19 pandemic is already hurting the global economy, it's actually beneficial for stablecoins, and it's proving that they work, claims the CEO of crypto financial services firm Circle, Jeremy Allaire. Not all stablecoins have had a reason to celebrate though.
With the rise in the market demand, came the rise in market capitalization of several stablecoins, including USD coin (USDC), a stablecoin which is pegged to the USD and is managed by Circle and crypto exchange Coinbase. Allaire announced that the coin reached a new all-time high of USD 568 million in circulation over the past few days, believing that it's the result of people's behavior during the ongoing Covid-19 outbreak. It's "[f]ascinating to see "flight to safety" within the crypto macro market," writes Allaire, "but also demand for high-quality USD liquidity for markets."
Meanwhile, earlier in March, the most popular stablecoin, tether (USDT), surpassed USD 5 billion in market capitalization, compared with USD 2 billion in February. It even flipped XRP, the third-largest coin by market capitalization, this past weekend temporary, before going back below the USD 5 billion level on Monday.
The market crashed on Friday, March 13, with bitcoin (BTC) plunging into the USD 4,000 level, before going above USD 5,000, where it has traded for a couple of days. Now (9:43 UTC), we find it at USD 4.915, having fallen 7% in a day and 38% in a week.
Allaire commented that while it's "not as exciting to see markets so crushed, it's still rewarding to see that this entirely new, entirely digital, blockchain-based monetary infrastructure is working."
Meanwhile, just six days ago, three days before the crash, Circle has released a new set of services meant to help widen the use of digital currency in everyday payments and commerce. They've expanded the rollout of Business Accounts for USDC and have introduced a set of developer-oriented platform services dubbed Circle APIs.
While some stablecoins rise, others fall
Other major stablecoins – namely, USDT, paxos standard token (PAX), true USD (TUSD), and binance USD (BUSD), respectively – had also experienced a change in these past three days. But not all were positive changes.
In the order of highest to the lowest, the coins experienced the following changes in their market capitalizations:
| Stablecoin | March 12-13 | March 12-16 |
| --- | --- | --- |
| USDC | 3% | 25% |
| TUSD | 1.3% | 3.4% |
| USDT | 0.4% | 0.2% |
| PAX | -8% | 7% |
| BUSD | -19% | -5% |
Stablecoins by market capitalization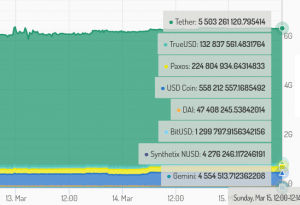 Post-pandemic demand
Whether this market demand will continue for specific stablecoins, or stablecoins in general, is difficult to predict. Nonetheless, Allaire is optimistic. "Demand for internet dollars — digital, fast, global, secure, cheap to use — should increase significantly," he writes, and explains that both regular people and businesses "will want an architecture where they can make and receive payments with less counter-party risk and more security."
Meanwhile, Tyler Winklevoss, co-founder and CEO at crypto exchange Gemini, commented that all assets, gold included, in the short term, will be affected by a sudden and negative demand shock in the global economy. "Bitcoin is not a hedge to pandemics," argues Winklevoss, "it is a hedge to fiat regimes."